The M/V AUSTRALIA was sailing from Port Arthur, Texas to New Haven, Connecticut loaded with fuel oil. The tanker was sailing alone and unarmed, zig-zagging at approximately 11 knots. It approached the Diamond Shoals area fully aware of the dangers as radio reports from the torpedoed ships Olean and Ario had been received. At approximately 1400 EWT, a single torpedo from the U-332 struck the engine room on the starboard side. Four men on watch in the engine room were killed. Survivors reported seeing the vessel with the stern resting on the bottom and the bow afloat. Survivors were picked up by SS WILLIAM J. SALMAN approximately 1.5 hours after abandoning ship. They were later delivered to the USS RUBY (PY-21) and landed in Southport, NC at 1430 EWT on March 17.

The Australia carried a crew of 40. There were 36 survivors; 4 killed. One of the dead crewman, William F. Johnson, Second Assistant, age 39, had his name later used for a liberty ship .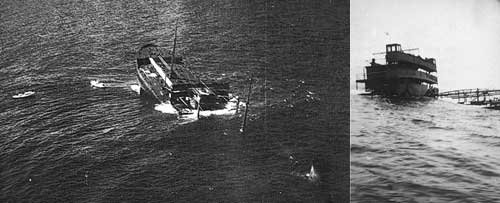 William J. Salman (L)
and
USS Ruby(R)
picked up survivors from
Australia
(
11,8
)
The Australia settled by its stern, but its bow remained afloat and inspite of the torpedo damage, none of its cargo holds were ruptured. The USSGC Dione stayed in the area of the torpedo attack thinking that the u-boat would return to finish off its victim. The Dione soon got a contact and started it depth charge attack, but the U-332 escaped without damage. Because the bow and bridge of the AUSTRALIA were showing above water, a salvage tug, RELIEF (SP-2170) was dispatched to inspect the damage. She reported the wreck ship burned out and a total loss. It is unclear as to the source of the fire as the crew did not report the ship burning when they abandoned the vessel. The ship later broke apart and sunk.
The SS WILLIAM J. SALMAN was later torpedoed and sunk on 5/18/1942. The U-332 was sunk with loss of all hands on 4/26/1943.