The Dixie Arrow was one of a series of "Arrow" ships built for and owned by the Socony-Vacuumm Oil Co., aka "Mobil", There were the Broad Arrow, China Arrow, India Arrow, Japan Arrow, Java Arrow, Royal Arrow, Standard Arrow, Sylvan Arrow, and Yankee Arrow. They were all tankers, nearly identical in size, roughly 485 x 62 x 28, and many were built by the New York Shipbuilding Corporation in Camden, NJ. All were built in the 1916 to 1921 period. The Acme, Ario and Atlas were also "Mobil" tankers, and like the Dixie Arrow, were lost off the North Carolina coast during World War II. The other Arrow tankers suffered much the same fate:
• Broad Arrow was sunk by the U-124 off Guyana/Suriname (U-124 also sunk the Acme, Kassandra-Louloudis, E.M. Clark, Papoose, W.E. Hutton, Naeco and damaged the Esso Nashville and Atlantic Sun off the NC coast);
• China Arrow was sunk by the U-103 due east of Norfolk, VA;
• India Arrow was sunk by the U-103 southeast of NY, NY;
• Sylvan Arrow was sunk by the U-155 southwest of Grenada;

NY Shipbuilding Corporation as it appeared in 1921 when the Dixie Arrow was built (29)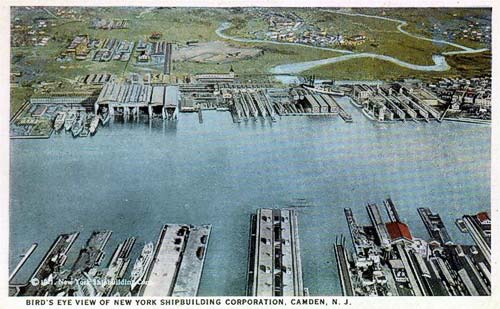 On March 26, 1942, the Dixie Arrow was traveling unarmed and alone, approaching Cape Hatteras, enroute from Texas City, TX to Paulsboro, NJ with 96,000 barrels of crude oil. The U-71 had spent the night waiting near the Diamond Shoals Light Buoy hoping to intercept targets. With the breaking dawn, the u-boat captain, KK Walter Flascheenberg, was about the order his boat to the bottom when he spotted the masts of the approaching tanker on the horizon. He manuevered his boat against the zig-zag course of the Dixie Arrow trying to get the tanker between the U-71 and shore.
At 0858 EWT, 3 torpedoes slammed into the starboard side of the Dixie Arrow and in less than 1 minute the tanker was mortally wounded and engulfed in flames. The first torpedo hit at the midship deckhouse, destroying it and killing most of the deck officers. 60 seconds later the 2nd and 3rd torpedoes hit just aft of the deckhouse and cracked the tanker in two.