---
The
Vardulia
aka
Verdun
a sister ship of the
Veturia
(
22, Gentile
)
SHIP HISTORY: (2, 21, Gentile)
The British steam frieghter Veturia was bound for Hampton Roads, VA when it lost its way in fog off the outer Diamond Shoals. All 47 sailors from the Veturia were rescued by the U.S. Coast Guard Revenu Cutter Onondaga. The rescue was considered the highlight of the Onondaga's service history. The Captain of the cutter, Captain Frederick C. Billard, USCG, (also former superintendent of the Coast Guard Academy) and the entire crew later received a commendation from the British Admirality for their efforts. An interesting footnote and underwater sonar image of the Onondaga can be found at this page.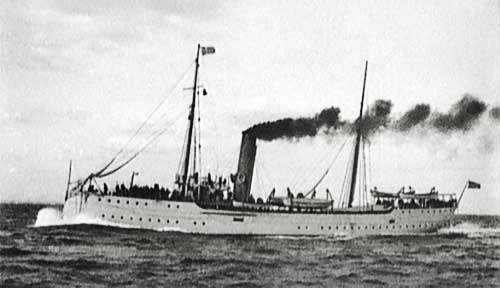 The Coast Guard Revenue Cutter Onondaga pictured here during an America's Cup Race in 1901 (20) - Library of Congress, Prints and Photographs Division, Detroit Publishing Company Collection
---
DIVE NOTES:
Diving Depths: Varies from 30-45 feet depending how much of the wreck is exposed; 35-40 feet means the boilers/engine and parts of the stern/bow are exposed, but not anything connecting the three pieces.
Current: Being in the shoals, the wreck would be subject to strong currents and wave action
Visibility: Bright sand and shallow water generally allows for good viz except when stirred up by big swells and shallow water
Summer Temperature: High 70s - lo 80s
Points of Interest: Boilers (3) and large engine;
Fish/Animal Life: Triggerfish, small reef fish;
Description: This wreck comes and goes with sand and seasons. For several years I had tried to dive the Veturia but the sands had the wreck.completely covered. Finally, in the summer of 2004 — maybe due to Hurricane Isabel — the Veturia was at least partially uncovered. There are 3 boilers - two standing upright and the remains of a third sitting on its end. The big steam engine is laying on its side. There is evidence of a prop shaft coming out of the engine area and it is reported that, when visible, it can be followed along the sand back to the stern. It was buried when I visited the wreck. The stern section reportedly contains at least the remains of the steering quadrant. The bow section lies separate from the other two pieces and is often covered as well. In an interesting tale of "serandipity", when the Veturia was first discovered, only the extreme 1 foot section of the bow point was uncovered. When visited by another diver a some time later, only another 1-2 feet of sand had moved off of the bow, but it was enough to completely expose the ships bell, which was quickly recovered. Diving, like life, is all about timing. The Veturia was a large ship (424 feet) so there must either be a significant portion still buried under the sand or its remains have been blasted apart and washed away by the relentless waves of the Diamond Shoals.
---
PHOTOS:

The two upright boilers

Remains of third boiler - other two on right

Topside of the toppled engine

Bottom of the engine and engine "bed"

Divers swimming among the boilers and toppled engine

When exposed, the prop shaft leads
to the stern

---

Unless noted, all items © 2004-05 by Paul M. Hudy